Hey guys and gals,
This is going to be the last part on my Sunscreen Project series. If you've been following my posts so far, you'll know that for the past few months, I've been searching for a great sunscreen that is affordable, non-comedogenic, and provides full-spectrum protection with at least SPF 30. After going through 9 sunscreens, I've found the one I like the most:
Coppertone Oil Free Sunscreen Lotion, SPF 30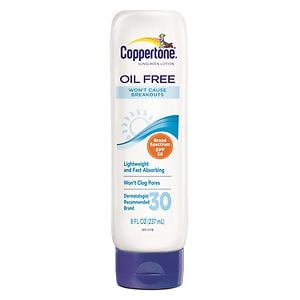 If you guys look on my review for this sunscreen here, you'll see that this sunscreen fits all of the qualifications listed. I highly recommend this sunscreen for anyone with oily, combination, acne-prone, or sensitive skin. This is a pretty great sunscreen that retails for $10 on drugstore.com, but you can buy it on Amazon for $7.87. Great deal for 8 oz of sunscreen - even if you apply it daily, it will last a long time!
I hope this series has been enjoyable for you all. I will post the past posts (that's a mouthful) at the bottom of this post. Please stay safe this summer under the hot sun and apply sunscreen on!
~~~~~~~~~~~~~~~~~~~~~~~~~~~~~~~~~~~~~~~~~~~~~~~~~~~~~~~~~~~~~~~~~~~~~~~~