Coppertone Oil Free Sunscreen Lotion, SPF 30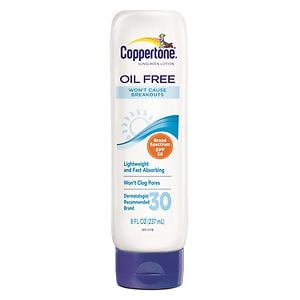 I ordered this sunscreen online off of
Amazon.com
for about $9. $9 for 8 ounces of sunscreen. Nice!
The first interesting thing that I noticed was that this package did not have an expiration date. Hmm. In order to avoid any problems that this might potentially have for me in the future, I wrote the date I received the sunscreen and the earliest expiration date (1 year from then) on the spine of the sunscreen bottle in permanent marker.
A few days after I got this sunscreen, I decided to try it. Adding it into my daily morning routine, I applied about 1/4-1/3 ounce of it onto my face, behind my ears, and the top of my neck.
And hence, my review begins.
Here are the factors that I will look for:
1. Good coverage of UVA and UVB rays
2. SPF of 30+
3. Oil-free, or noncomedogenic (note that what is noncomedogenic for one person might not be for another person - it all depends on your skin type and the sensitivity of your skin)
4. Hypoallergenic
5. Affordability
Ingredients list:
Active Ingredients: Avobenzone 2%, Homosalate (13%), Octisalate (5%), Octocrylene (2%), Oxybenzone 4%
Inactive Ingredients: Water, Sorbitol, Aluminum Starch Octenylsuccinate, VP/Eicosene Copolymer, Triethanolamine, Stearic Acid, Sorbitan Isostearate, Benzyl Alcohol, Dimethicone, Polyglyceryl 3 Diisostearate, Tocopherol (Natural Vitamin E), Carbomer, Methylparaben, Propylparaben, Disodium EDTA
With a quick glance at the ingredients list, I am pretty happy with this sunscreen. It covers both UVA (avobenzone) and UVB (homosalate, octisalate, octocrylene, oxybenzone) rays, so it is a broad-spectrum sunscreen.
The sunscreen applied on readily onto my skin. It was pretty easy to smooth out as well, and absorbed well into my skin. It took only a few minutes to dry onto my skin, and afterwards, my skin did not look shiny or feel sticky. Excellent.
This sunscreen did not make me break out, even after about 2 weeks of continuous use. I guess it lives up to its reputation of being noncomedogenic, after stating in its name that it is "Oil-Free"?
Also, this sunscreen did not give me a rash. Good. And, it has a SPF of 30, which is pretty good.
Pros? Affordability, Easy to apply, Fast-absorbing, Hypoallergenic, Good SPF, Broad Spectrum
Cons? None - that I can think of.
Would this be a repurchase for me? As of right now, probably yes. However, it probably will take me awhile to finish it, so I will most likely not buy this again until I am almost done with this bottle. However, so far, this one has been the best I've seen - matching just about all of my qualifications. Nice.
I think this is an excellent sunscreen for all skin types, especially oily skin types or combination skin types.
Have you guys/gals tried this before? Any other sunscreens (hopefully affordable ones) that you guys/gals might recommend me to try? Lemme know and leave a comment!
Source:
1
Past posts:
Part 1: Introduction
Part 2: Vanicream SPF 30
Part 3: Solbar Avo SPF 32
Part 4: Pur~lisse Essential Daily Moisturizer SPF 30
Part 5: Coppertone Sport SPF 30
Part 6: Cetaphil Daily Facial Moisturizer SPF 15
Part 7: Shiseido Sun Protection Eye Cream SPF 32
Part 8:

Clean & Clear Finishes Oil-Free Pore Perfecting Moisturizer w/SPF 15