Hey guys,
This past weekend (which was our Spring Break) I got a formidable rash during one of my visits to my bf's family's house. (I didn't LIVE at his house, mind you, we actually live pretty close to each other, get those dirty thoughts out of your mind!) Anyway, back to the rash.
Originally, I thought the rash came from one of the soaps that I used at his house while I was washing my hands in the bathroom. However, afterwards, I thought that if that had been the case, then I would've gotten rashes on both of my hands. However, in reality, I only have a rash on one hand - on my lower upper palm and my wrist, down to the upper part of my arm. In other words, my metacarpals, carpals, and the distal portion of my radius, in bone terms. Which might suggest that the problem I had was with the cloth that I used to wipe my hands on after washing my hands, since I wipe my hands in a way that my left hand comes into more contact with the cloth than my right hand (usually).
Okay, enough with the scientificky part.
The point being is that I got the rash at his house.
The rash is red with scaly bumps. It (obviously) gets worse when I scratch it, when it itches, and gets even more inflamed.
I asked the graduate student who works in the lab with me the other day and he said that it looked like I had poison ivy. (He works out in the field - e.g. wading in ponds, going on nature walks, so he encounters things like this often). The problem is that this is probably not what happened, because if it was then probably a lot of other people in the house would've also gotten it. And they haven't (thank goodness!). So I dunno now.
Right now, I'm taking Zyrtec and combating it with Benadryl's Anti-Itch Gel for Kids (0.45% camphor is the active ingredient) as an external analgesic.
This is kind of what it looks like now (though it subsides at times, this is not actually a picture of my rash, I'm too lazy/tired to take a pic of it actually);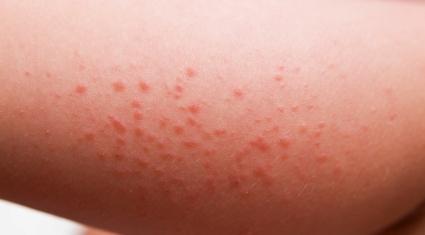 Any suggestions for help?
Thanks! <3
Source:
1