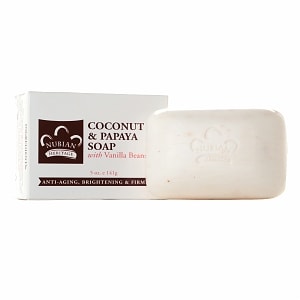 Ahh, coconuts and papayas. Doesn't that sound exotic?
I had been searching for a skin brightening soap and wanted something that made my complexion look brighter. Thus, lo and behold, I read up on some sites and found out that papaya would be a good ingredient that would do the trick.
I had been ordering some things on drugstore.com (and had some credit due to a past purchase) so I decided to go for it.
The ingredients, according to the drugstore.com website, are:
Cocos Nucifera (Coconut) Oil, Butyrospermum Parkii (Shea Butter), Theobroma Cacao (Cocoa) Seed Butter, Palm Oil, Cocos Nucifera (Coconut) Milk, Papain (Papaya Extract), Tocopherol (Vitamin E), Vegetable Glycerin, Essential Oil Blend, Vanilla Beans
The first time I tried this product out, it really made me break out. At the time I was really puzzled because I thought that it was because of the stress I was going through, hormonal changes, yada-yada-yada. Of course those factors came into play, but at the same time I didn't look at the ingredients list.
The first couple of ingredients - coconut oil, shea butter, palm oil, etc - all are super occlusive agents.
Papaya extract was one of the later ingredients listed, meaning it comprised of a smaller component of the soap than the occlusive agents did.
Uh-oh.
Anyway, here are the pros and cons. Please keep in mind that I have combination-oily skin, am of East Asian descent, and normally have the occasional breakouts every once in awhile.
Pros:
-Did brighten my skin
-Smelled really nice
-Really great price - $4, and will last a long time
Cons:
-Really made my skin break out
-The papaya bits were pretty scratchy (rough) on my skin
Overall, even though there are more pros than cons, I think that I will not be using this product again for my face. I think it will be a great body moisturizing bar - after all it has all of those rich agents, and my body does not have the same combination-oily composition that my face has - I usually don't get body acne. Thus I think I will try it as a body bar soap and see what happens instead.
I'm glad I only bought one bar to try out at the beginning. If it works well as a body bar then I might repurchase it.
Have you guys and gals had any experiences like this regarding such products? Any good suggestions on facial soap bars? Lemme know!