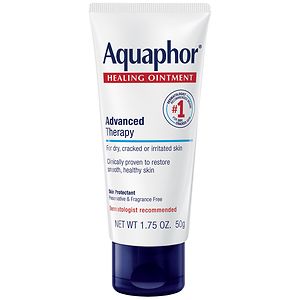 When I got a skin rash last spring, my doctor prescribed Aquaphor to put on for healing purposes. Ever since then, I've had this tube of stuff, which I use intermittently for extreme periods of dryness on the skin, and sometimes as a late night moisturizer for my lips. Several of my friends use this as a lip balm during the daytime and night as well.
Well, what do I think of it?
Active ingredient Purpose
Petrolatum (41%) Skin protectant (ointment)
Inactive Ingredients
Mineral Oil, Ceresin, Lanolin Alcohol, Panthenol, Glycerin, Bisabolol
An inspection of the ingredients shows that the main ingredients, petrolatum, mineral oil, lanolin, glycerin, etc - are all very hydrating. Nice. I wouldn't recommend using this product as a facial moisturizer because the main ingredients are very comedogenic, however.
Many people say that this product is "water-based", especially because its name is "Aquaphor". This is wrong; the main ingredient, petrolatum, is the same as in petroleum jelly - literally it is just petroleum jelly, except with more added ingredients. For someone who is just looking for the emollient properties of petroleum jelly, just get that - it is cheaper after all, and has the same main ingredient. Of course, this Eucerin Aquaphor product has other ingredients as well that are also emollient.
What did I think of it?
Pros:
-Very emollient, moisturizing
-Did eventually help get rid of my rash, though I don't know if that was an effect of my skin healing itself over time (downfall/decreased production of IgE antibodies) or this product, or a combination of the two
-Protects against chafing
-Relatively affordable ($6 at Walgreens for 1.75 oz, a little bit goes
a long
way, trust me)
-Relatively free of potentially irritating products such as fragrances or essential oils
Cons:
-Really sticky, though perhaps a tiny bit less sticky than petroleum jelly (due to having extra ingredients)
-Comedogenic ingredients (though probably wouldn't be a problem if you have super dry skin and are not putting it onto your face if you have oily skin)
Would I repurchase this again? Well, I think this product is pretty good overall. It does its job. If I ran out of my first tube (which I have yet to make a dent in even) then I probably will repurchase it, if I need it.
Source:
1